Number of tenders with more than five competitors has doubled in the past two years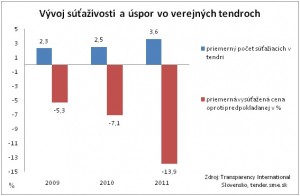 The companies were competing more in the last year and this way the state saved up more than in the previous years. Number of purchases with a single applicant dropped from 47% to 38% of all tenders. On the other hand, the number of tenders with more than five applicants grew from one tenth to one fifth of all public procurement. Average savings towards the expected costs were in the past year on the level of 14%, while in 2009 it was only 5%. This follows from the analysis of quality of public procurement in years 2009-2011 prepared by Transparency International Slovakia.
While in 2009 the average number of companies in a tender was 2,3, in 2011 this number grew to 3,6. Higher participation of the companies in tenders affects positively the quality and profitability of the offers. This way Slovakia cut to half the previous lag behind the other EU countries where the average number of companies competing in one tender is five.
The main reason for the higher competition is, besides the economic crisis, mainly the massive introduction of electronic auctions, and making the procedure of narrower competition stricter. While in 2011 the e-auction was used in every fourth tender, in 2009 it was used only in every 140th procurement.
As the last year's Transparency study has shown, the savings in auctions on average doubled compared to the tenders with just one round of offers.
Last year the whole public sector ordered the commissions for 2.5 billion euro. Research done among the entrepreneurs shows that especially state tenders are still the area highly prone to corruption and clientelism.
Data for this study are from the application Open public procurement (tender.sme.sk) and the whole study is available here (in Slovak) : http://bit.ly/Obstaravanie2011.
The project of monitoring the quality of state procurement was funded by Siemens Integrity Initiative.
Contact:
Gabriel Šípoš, TIS, +421 2 5341 7207