New chairmen have brought about changes, Trenčiansky kraj still in the lead
In the middle of their fifth term, the self-governing regions in Slovakia are more transparent than ever before. The credit mainly goes to the new chairmen supported by center-right coalitions who have worked on regions' transparency since their appointment after 2017 elections. All of them made positive progress, but none of them managed to match the high ranking of the Trenčiansky samosprávny kraj (TSK) chaired by Jaroslav Baška (Smer party). TSK thus remains in the position of the most open municipality in Slovakia. This follows the latest regions' transparency ranking that was drawn up by the NGO Transparency International Slovensko for the fifth time.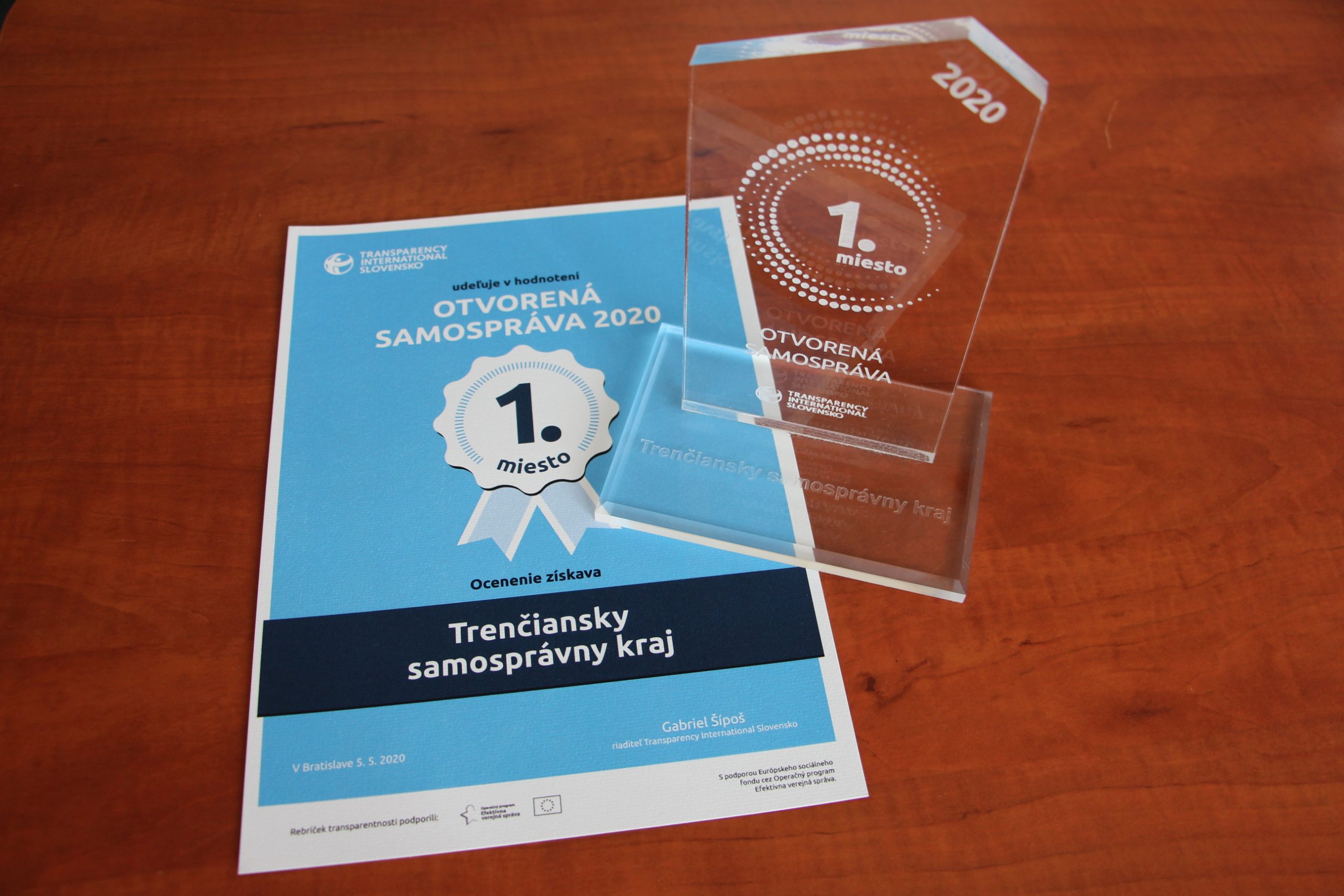 Ranking of transparency in Slovak regions has increased by almost 9 percentage points (pp) in two and a half years, reaching 63.3% (54.3% in 2017). It accounts for the biggest leap in history of regions' transparency ranking. Self-governing regions are more open than the hundred largest cities in Slovakia which reached the transparency level of 57% in 2018 ranking. This is the first time ever that each of the eight regions has increased its transparency, improving in 10 out of 11 assessed policy areas.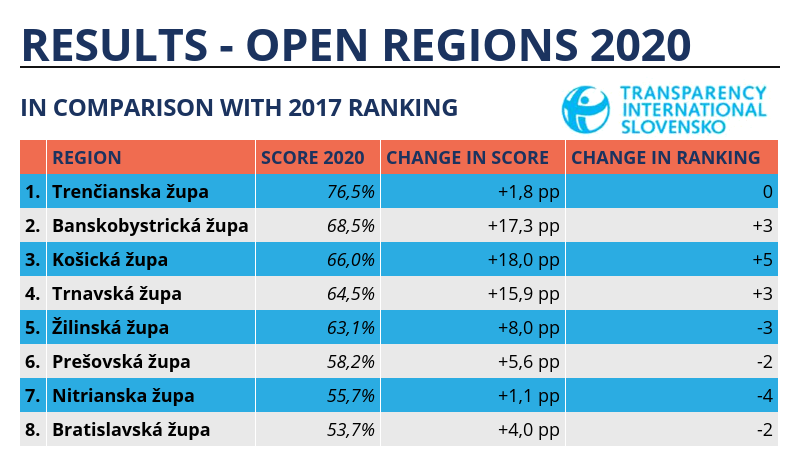 The current leader Trenčiansky kraj succeeded in breaking its own record (76.6%) from 2017 (75%). It is still the only region with transparency grade A. Moreover, it dominates in 5 out of 11 assessed areas (Access to Information Policy, Public Property Sales and Lease Policy, Human Resources, Professional Ethics and Conflicts of Interest, Businesses and Institutions).
Trenčiansky kraj is followed by Banskobystrická župa led by Ján Lunter (2nd place, rating 68.5%, grade B+), Košický kraj with the chair Rastislav Trnka (3rd place, rating 66%, grade B+) and Trnavský kraj chaired by Jozef Viskupič (4th place, rating 64.5%, grade B). These regions led by the chairmen with support of center-right parties have improved their transparency rating by one third (BBSK by 17 pp, KSK by 18 pp, TTSK by 16 pp). Košická župa has made the most significant progress by jumping to the 3rd place from the last one in 2017. Košický kraj also had its anti-corruption strategy analyzed by Transparency in 2018, however unlike the ranking, the strategy is aimed at the quality of processes as such.
Nitrianska župa led by Milan Belica (Smer, SNS, Most-Híd) has made the smallest progress (rise by 1pp to 55.7%, grade B-) which triggered a fall by four ranks to the penultimate place. Despite improving its rating, Bratislavská župa (53,7%, grade C+) chaired by Juraj Droba (SaS) has not been able to increase its low position in the ranking. One of the reasons may be that during the evaluation this municipality was setting up a new website which so far does not match the information standard of other regions. BSK came in last in five areas – Access to Information, Human Resources, Professional Ethics, Businesses and Institutions and Transport Policy.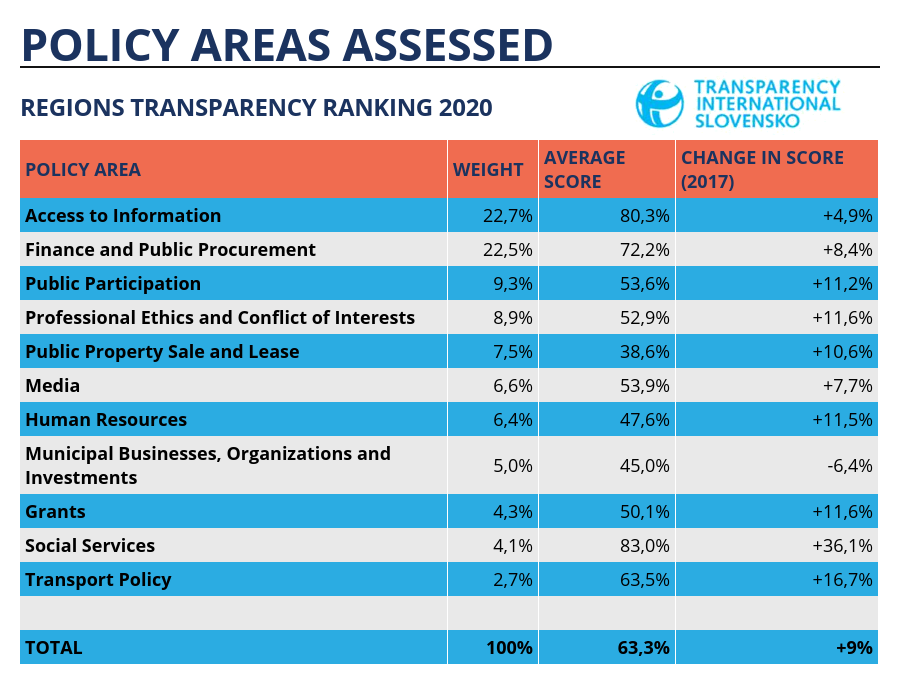 In two and a half years, regions have experienced positive changes. The number of self-governing regions using participatory budgeting to support communities has risen from one to four. The waiting lists for social care facilities are now published on the websites of five regions and all of them have adopted a Code of Ethics for their employees. Around half of the clerks have been selected via competitions, also three quarters of Heads of Departments and two thirds of Heads of Units.
Regions still have a lot to improve and work on. Only three out of eight chairmen publish their work schedule on the official website. Five self-governing regions do not publish the information about the results of open competition processes of asset sale or lease. Elected representatives of only three regions have a Code of Ethics. Most of them failed to make a phone call in English.
Our ranking for the second time included an evaluation of the print media funded by self-governing regions which was based on the methodology of the Hlásne trúby project that also analyzes the newspaper objectivity and public character in the hundred largest Slovak cities. In addition to the regional newspapers, we also examined a TV weekly run by Prešovský kraj and a radio program commissioned by Trnavský kraj.
Overall, regions' print media quality is mediocre although it has slightly increased compared to 2017 (the overall quality indicator- Index BENEFIT rose from 40% to 47%). As a result, some newspapers seem to be a promotional tool for chairmen rather than a well-balanced source of information. The bimonthly of Žilinská župa named ZAkraj is currently leading the ranking of Index BENEFIT with 60.1%. Members of opposition parties can regularly contribute to the content of this magazine. However, ZAkraj would be ranked 11th if competing with city newspapers (2018 ranking). Our analysis has also shown that the Nitranska župa's monthly named Župné ozveny is at the bottom of the Index BENEFIT ranking with just 25.2% as it mentioned the regional government 86 times and published 32 photos of the management covering 20 pages (within 5 issues).
The transparency ranking consists of 132 indicators out of which 15 new ones were added. The data were collected from more than 10 different sources such as regions' official websites, a questionnaire sent to their offices, regions' print media, data from Public Procurement Office, Electronic Contracting System, Beneficial Ownership Registry and inquiries sent to the chairmen and chief controllers by citizens (Transparency's co-workers).
One of the new indicators was aimed to monitor if the regions held public procurement processes for providers of public transport. They had been given more than a decade to prepare for such process, yet 6 out of 8 regions have not completed it and public transport is provided under the amendments to the contracts from 2007 to 2009. As part of mystery shopping, we sent a Freedom of Information Request to largest high schools founded by self-governing regions. Only two of them responded in legal form and term.
Regions' transparency ranking is considered to be an effective tool to improve public control which significantly reduces unethical behavior. The ranking does not directly indicate the level of corruption, it solely assesses openness, quality of publishing and the system of rules. However, it cannot be ruled out that municipalities high up in the ranking are not corrupt and vice versa.
The ranking is part of the project of Effective Public Administration, financed by European Social Fund. All the results and other details are available on the portal samosprava.transparency.sk as well as on the Transparency website. There are also short videos of the TIS director Gabriel Šípoš and TSK chairman Jaroslav Baška where they comment on the current results. If you have any further questions, please feel free to contact us below.

Details: